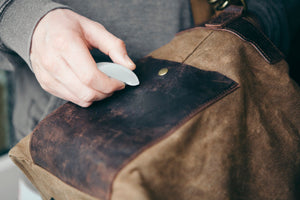 Sustainability is at the heart of everything we do, and this starts with our manufacturing process. We ensure that all our products are manufactured ethically, with sustainable materials and socially responsible procedures.

We are conscious of our intention to move away from consumption-based production, which means our workshops are purely concerned with the quality of our bags rather than the quantity produced.

As a result, we do not seek to over produce in order to minimise cost. We keep a small range and tight stockholding, and production is measured to ensure no wastage through stock write-off.
Ethically Sourced
Our Production
All Kovered products are responsibly manufactured with our partners in the Far East. Our Far East partners are located in China and Vietnam, in workshops that employ small and highly skilled teams, each working to guarantee every handcrafted product meets the Kovered standard.
KVD products are manufactured using ethical factories with responsible workmanship and posted to you in recycled packaging.
We work closely with our manufacturers to ensure traceability and trust within our supply chain. We take pride in the long-term relationships that have enabled our shared learning and development in sustainable practices.
Our Workshops currently employ 50-person strong teams, allowing each worker to dedicate the time and energy towards hand-crafting a quality product. These factories follow the ETI base code, a driving force in ethical trade. All of our production - including cutting, moulding and sewing - is done under one roof, which allows for greater consistently within our quality control.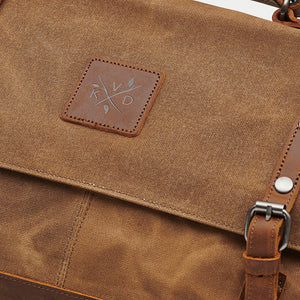 Eco-friendly, sustainable built for life bags. A canvas cut above the ordinary. A leather stitch beyond the crowd.
We source eco-friendly materials and this has been our ethos since we started business.
Reclaimed full-grain leather
'Reclaimed' or 'repurposed' leather means we source hides which would otherwise be discarded. We use 'saddle leather' cow hide for durability, and we nourish it with a balsam containing beeswax, carnauba wax, jojoba and avocado oil. This stops stiffening, gives it a vintage texture and makes it water resistant.
Tough cotton canvas
Natural fibre cotton is woven into a durable-grade canvas for a lifetime of use. For centuries it's been the material of mariners and explorers. It's helped climb Everest, crossed the polar ice caps, and been at the centre of legendary tests of endurance. For some of our styles, the tight-wove canvas is then waxed or moisture-proofed using natural oils and water repellents.
Vegetable dyes
We prefer to colour our bags with vegetable dyes made from tree bark, berries and roots, rather than using chrome chemical tanning. These are water-based pigment carriers, not spirit or alcohol binders, and they give our bags deep colour fastness. It's a longer process, but we think it's worth it.
Brass and steel hardware
We colour coordinate stylishly with zips, fasteners and buckles of high-grade rustproof brass and steel. Sprung-loaded clips and magnetic studded fasteners make snappy additions for fast opening on the move.We over-spec' the gauge of metal hardware to give bags our 'made for life' structural integrity.
Polyester stitching and linings
Our one concession to modern fabric is polyester, but we source recycled material when we can. Polyester linings protect contents from moisture and reduce friction when lifting out belongings (when cotton might snag). For similar reasons, our industrial grade stitching wont fray, mould, or stretch in the most demanding conditions.
We've got you Kovered. That's a material pledge.
Our ReKovered Collection
Made from recycled materials our ReKovered collection is our most sustainable collection to date. The Arrow, Dee, and Trent were designed to maximise functionality with their water-repellent bluesign® approved materials.