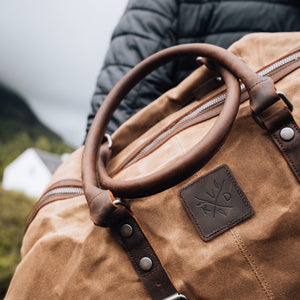 Looking after your bag
Before leaving the workshop, your bag will be treated and inspected, so it arrives 'adventure proofed', with canvas fully waxed and leather nourished for water resistance and longer life.

All parts: the zips, handles, studs, straps and linings, are checked as well. But from time to time, it pays to give your bag some TLC.
Treating and conditioning
On our reclaimed leather we use Renapur, a natural formula containing beeswax, carnauba wax, jojoba and avocado oil. This cleans, softens, nourishes and protects against the elements. The full grain cow hide takes on a vintage looks and smells rather awesome!
Shop now
Renapur is readily available, and your bag will thank you for applying it with a dry sponge to leather occasionally. Hang the bag to dry for several hours before use.
Discover
The tough-grade canvas is factory treated with natural wax in much the same way. Then we spray the bags when everything is dry with an eco-friendly water repellent, like Nanoman spray. This makes bags 'splash proof' and 'water repellent'.
Shop now
Cleaning
Adventures leave dirt, grime, sand and dust (and our bags are built for that!). The best way to clean your bag is to use a damp sponge or soft cloth on both the leather and canvas. It's best not to use soap which could wash out the natural balsam and wax out.